Back
THE TROPICAL BOBOTIE PIE BY FLOUR CAFE
The Yeppoon Pineapple Pie Competition winning recipe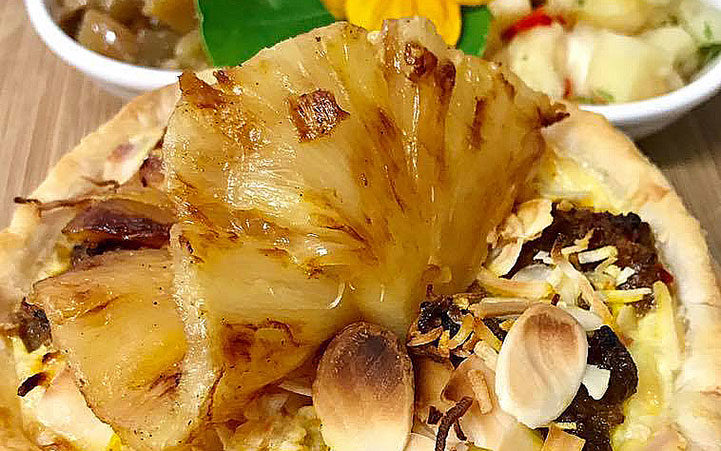 Serves 4
Ingredients
500g lean beef mince 2 medium onions, finely chopped 1 tbsp olive oil 1 tbsp mild curry powder ½ tsp of each: ground cardamom, chilli flakes and ground coriander 1 tsp turmeric powder 1 tsp salt, cracked black pepper 2 slices of white bread, soaked in milk to soften bread, then mashed 1 tbsp tomato paste 1 green apple peeled, cored and grated 2 tbsp sultanas 2 tbsp smooth apricot jam Juice and zest of one lemon 1 garlic clove, peeled and crushed 1 large local pineapple 1 large local pineapple 200 ml milk 2 large eggs 2 tbsp flaked almonds Crushed lemon leaves Coconut flakes
Method
Fry the onions in oil. Add curry powder, turmeric and spice mix, salt and pepper and fry another minute. Add the mince and fry until browned but not dry.
To this add the white bread, tomato paste, grated apple, sultanas, apricot jam, lemon juice and zest, crushed garlic and mix well.
Peel, core and slice pineapple in circles and grill in butter until golden and caramelised. Cut half of the grilled pineapple into cubes and add the mince mix. Save the other half for decoration. Let the mix cool down.
Line pie dishes with store bought puff pastry. Fill with the mince mix.
Make a custard mix using the 200 ml milk and 2 large eggs
Pour on top of the mince, approx. 25ml in each pie.
Sprinkle flaked almonds and coconut on top of the custard and some crushed lemon leaves.