Back
SAUCY STEAMED FISH FILLETS WITH PINEAPPLE, GINGER & CORIANDER
Give this recipe a go and make Saucy Steamed Fish Fillets with Pineapple, Ginger and Coriander.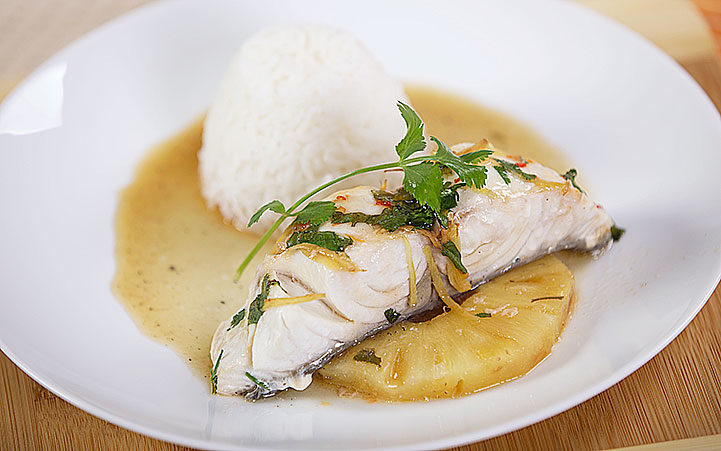 Serves 4
Ingredients
4 pineapple rings, (2 cm thick) 4 x 200 g white fish fillets (e.g. ling, barramundi or blue eye trevalla) 4 tablespoons coriander leaves, coarsely chopped 1 tablespoon ginger, julienned 4 tablespoons sweet chilli sauce 4 teaspoons soy sauce coriander leaves, extra, to serve 4 large squares aluminium foil (approx. 20 cm each) 4 squares baking paper (approx. 45 cm each)
Prep Time: 30 Minutes
Method
Pre-heat oven to 200°C. Cut aluminium foil and baking paper squares. Place baking paper squares on top of foil squares.
Place pineapple ring in centre of baking paper.
Top with fish and sprinkle with ginger and coriander. Combine sweet chilli sauce and soy sauce in a small bowl and drizzle over fish.
Fold ends of each square around fish to form a parcel. Place parcels on a baking tray in oven for 6-8 minutes.
Discard foil. Arrange fish on serving plates with steamed rice and extra coriander.