Back
Pineapple Slaw with a Salty-Sweet Coconut Dressing
Add a hint of tropical freshness to the slaw by adding thinly sliced fresh Pure Gold Pineapple to the mix. We've used a bag of slaw mix in this recipe – a fancier one with kale, but a plain one would work just as well – it's a handy shortcut perfect for mid-week meals. Serve as a side to grilled fish, chicken, pork or beef. Or, prepare as a delicious salad in its own right, dotted with hot-smoked or leftover cooked salmon, smoked or roasted chicken, or even canned tuna.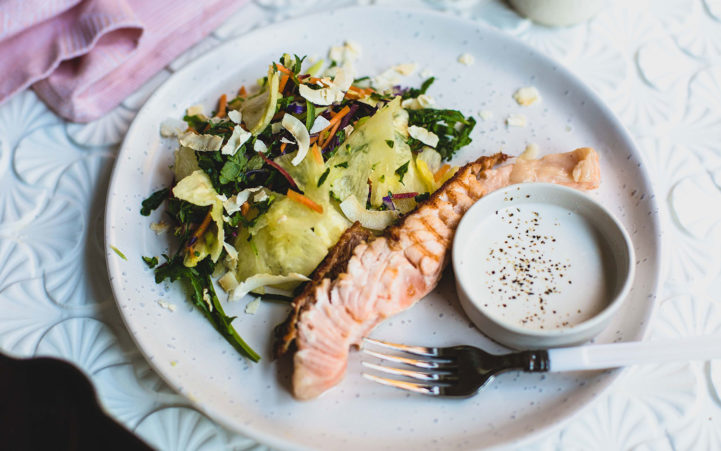 Serves 4
Ingredients
1 pineapple 1 (350g) bag of coleslaw mix (see note above) 3 tablespoons coconut flakes
Salty-Sweet Coconut Dressing
½ cup coconut milk
Zest from ¼ lime
2 tablespoons lime juice
1 teaspoon fish sauce
1 tablespoon rice syrup or honey
Serving add-ons
300g hot-smoked salmon or leftover grilled salmon
300g roasted or smoked chicken
190g canned tuna in oil or spring water
Method
Peel pineapple and cut in half lengthways. You will need about a quarter of the whole pineapple for this recipe - remaining pineapple can be cut into chunks stored in an airtight container in the fridge for up to 5 days – perfect for snacking.
Using a mandolin slicer or knife slice pineapple into paper thin slices. Toss with the coleslaw mix and dressing.
Serve as a side to barbecue meats or fish, or dot with the serving add ons to turn the side into a meal.