Back
Pineapple Skewers
These mini skewers are bursting with flavour and can be easily wrapped in lightly grilled flat breads or tortilla wraps torn in half which fit perfectly in one hand. You can make them bigger, and of course, feel free to use other protein instead of fish. Chicken, beef and pork go really well with these.
Makes 12 half-skewers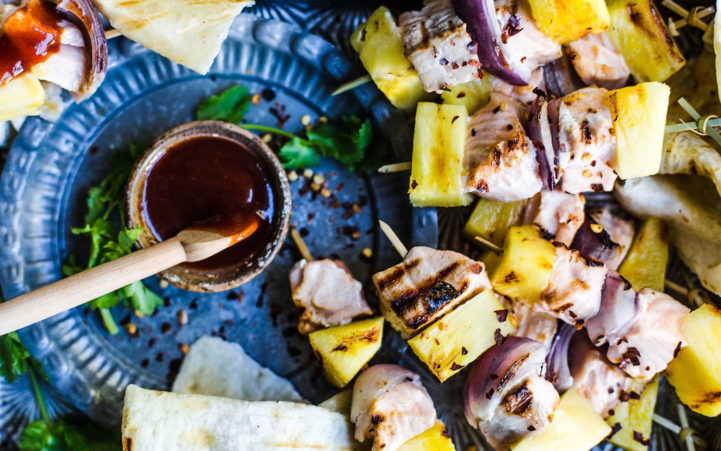 Ingredients
1 pineapple 200g skinless middle salmon fillets 1 small Spanish onion
To serve
6 tortilla wraps
Handful coriander or mint leaves
Sweet or hot chilli sauce
Method
Peel and dice pineapple into bite-sized pieces. You wil need 24 pieces for this recipe - remaining pineapple can be cut into chunks stored in an airtight container in the fridge for up to 5 days – perfect for snacking.) Dice salmon into bite-sized (approximately 2cm) cubes. Peel and slice onion into thirds, then cut each in half crossways.
Thread pineapple followed by salmon, onion, another salmon and pineapple piece onto small skewers. Grill in a frying pan set over medium heat or a barbecue for 2 minutes on each side, or until the fish is cooked through. Transfer to a serving dish
Place tortillas in the same pan of on the barbecue to heat through, about a minute in the pan or 20 seconds on the barbecue should be sufficient.
To serve: serve skewers with the tortillas torn in half, coriander or mint leaves and chilli sauce on the side. Enjoy by spreading a little chilli sauce on the wrap, place the skewer on top, sprinkle with herbs and wrap overhanging tortilla sides, pull out the skewer.