Back
Pineapple Pulled Beef Brisket with Smoky Gravy
It's the ultimate slow cooker recipe using brisket and fresh pineapple for a burst of delicious flavour. Bromelain, an enzyme found naturally in pineapples, helps to tenderise the meat as it cooks. If you don't have a slow cooker, you can easily make this in the oven – see notes below the recipe. Leftovers freeze well, too! Note: liquid smoke can be found from many delis, specialist stores or online.
Serves 4-8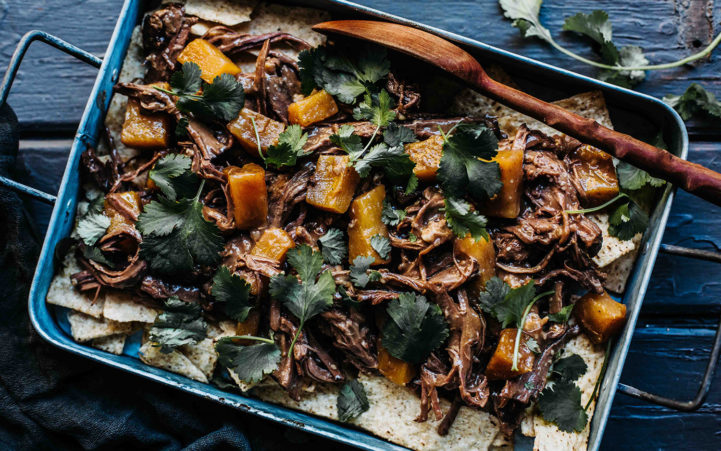 Ingredients
1 medium pineapple 1kg beef brisket ¼ teaspoon ginger powder ¼ teaspoon ground black pepper ¼ cup smoky barbecue sauce
Smoky Gravy
Pan juices from cooking the brisket
25g butter or 3 tablespoons olive oil
2 tablespoons plain flour
2 teaspoons mesquite liquid smoke (see note above)
Method
Peel and dice pineapple. Pat dry brisket with paper towels. Preheat a barbecue or a large frying pan over high heat. Sear brisket, for about 2 minutes on both sides. Transfer brisket to the slow cooker (for an oven method see notes below).
Add pineapple, ginger, black pepper. In a jug mix stock and barbecue sauce and pour over the brisket. Cook on high for 8 hours, the meat should be tender and fall away when pulled with a fork.
Transfer meat to a bowl or large dish, pull with a fork. Using a ladle scoop out the pineapple to the same bowl or dish.
To make the Smoky Gravy: remove the excess beef fat from the pan juices – you can chill the juices in the fridge overnight and lift out the solidified fat. Otherwise, transfer juices to a clean bowl or shallow baking dish. Dip the bottom of a soup ladle filled with ice into the juices and the fat will solidify and stick to the bottom of the ladle. Wipe off with a paper towel and repeat the process until very little fat remains on the bottom of the ladle.
Heat a large saucepan over medium heat and melt butter, heat until bubbling. Whisk in the flour and add about ½ cup of the pan juices, whisking to make a thick paste. Add another cup of the juices, whisking, then the remaining juices. Bring to a gentle simmer to thicken. Stir in liquid smoke. Pour smoky gravy over the pulled brisker and pineapple, stir through.
Serving suggestions
Serve pulled brisket with rice; on top of corn chips, sprinkled with a little grated cheese then grilled in the oven for 5 minutes and sprinkled with fresh coriander for delicious nachos with a twist; or serve on its own with some bread rolls as sloppy joes. You can also serve with a slaw and serve it as a burrito or wrap!
Oven method
Instead of slow cooker, you can make this dish in an oven. Simply follow the instructions as above then place the meat and remaining ingredients in an oven-proof dish (such as a cast iron casserole with a lid) and cook in an oven preheated to 160°C for 3-4 hours or until the meat is tender and falling apart when pulled with a fork.