Back
Pineapple, Prawn and Noodle Stir-fry
Mid-week dinners don't come easier than this delicious bowl of silky udon noodles dotted with juicy Pure Gold Pineapple chunks and tasty prawns. Chicken, pork or even beef strips can be used here as well – just make sure the meat is cooked through before serving. You can use dried udon noodles for this as well, simply cook them according to packet instructions before adding into the stir fry.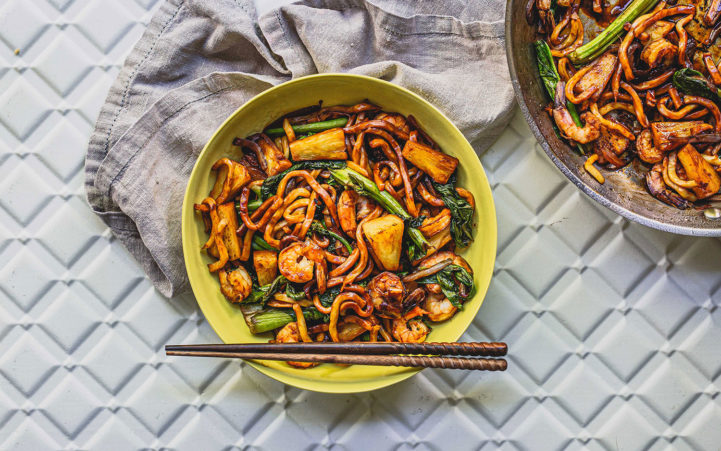 Serves 2
Ingredients
1 packet fresh udon noodles (see note above) 1 small red onion 3 bok choy 2 tablespoons sesame oil or olive oil 1 cup chopped pineapple* 12 cooked prawns 3 tablespoons Oyster sauce 2 tablespoons dark soy sauce
Method
Remove udon noodles from the packet and place in a bowl, loosening the strands.
Peel and slice onion lengthways.
Quarter bok choy lengthways.
Heat oil in a large frying pan or wok over high heat. Add onion and pineapple and stir-fry for 1-2 minutes until lightly caramelised.
Add prawns, bok choy, and stir to heat through.
Add udon noodles, oyster sauce and dark soy sauce. Stir everything together to coat with the sauce and heat through and serve.
* As always, you can peel and chop your Pure Gold Pineapple and store it in an air-tight container in the fridge for a few days, or freeze to add to smoothies, stir-fries and use for baking.