Back
Pineapple Macadamia Bliss Balls
Bursting with flavours of fresh Pure Gold Pineapple, buttery macadamias and tropical coconut, these little bite-sized bliss balls are perfect for snacking! If you would like to boost the protein content of the bliss balls, add 2 tablespoons of plant-based protein powder to the mix.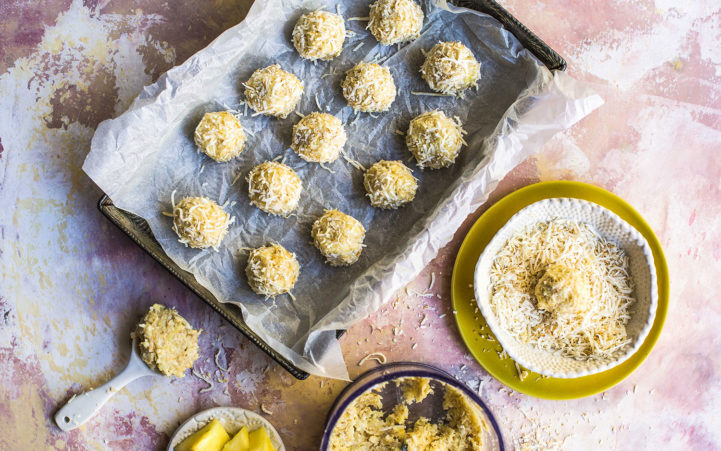 Serves 18
Ingredients
100g macadamias ¼ pineapple* (200g peeled) ½ cup rolled oats ½ cup shredded coconut, plus ¼ cup extra for rolling 2 tablespoons honey 2 tablespoons coconut oil, melted
Method
Place macadamias in a small bowl of a food processor and pulse until roughly chopped. Peel and cut pineapple into small chunks and add 200g of the chopped pineapple along with the remaining ingredients to the food processor. Process until the mixture becomes well mixed but still a bit chunky. (Remaining pineapple can be cut into chunks stored in an airtight container in the fridge for up to 5 days – perfect for snacking.)
Scoop a tablespoon of the mixture and roll in your hands into a ball. Roll each ball in the extra coconut to coat.
Enjoy immediately, or store in the fridge for up to 3 days. The balls can be frozen for up to 3 months and enjoyed as a cold snack in summer.