Back
Pineapple Fried Rice
Juicy chunks of fresh pineapple dotted around a mild curry flavoured rice – a classic Thai dish that couldn't be simpler to make at home. The best thing is that you can add more veggies to the dish, if you like. Broccoli, green beans, frozen carrot, pea and corn mix all work well here.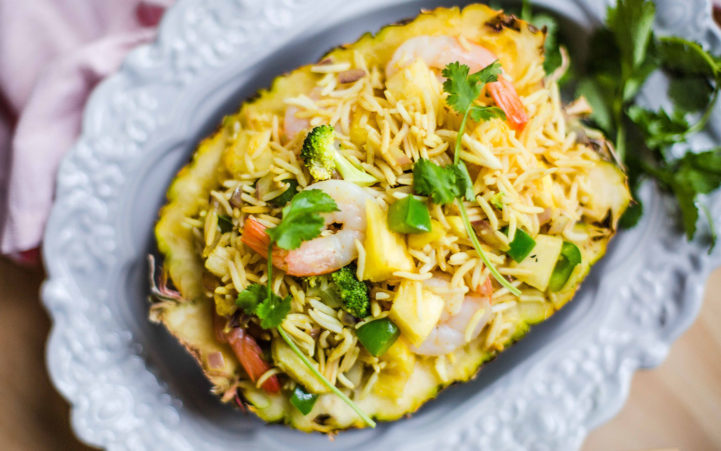 Serves 4
Ingredients
1 pineapple 1 tablespoon fish sauce 1 tablespoon soy sauce 1 teaspoon brown sugar 1 teaspoon curry powder (such as Keen's) 1 teaspoon ginger powder 1 garlic clove 1 small Spanish onion 1 small green capsicum 3 tablespoons olive or coconut oil 12 green prawns 400g pouch of ready to heat jasmine or basmati rice Handful coriander leaves
Method
If you would like to serve the dish in a pineapple simply cut the fruit lengthways then cut the flesh around close to the edges and down the core. Score the flesh with a knife and then using a spoon scoop out the pineapple out onto a chopping board. Chop roughly.
In a small cup mix together the fish sauce, soy sauce, sugar, curry powder and ginger powder, set aside. Peel and finely dice the garlic and onion. Core and finely dice green capsicum.
Heat oil in a large frying pan or wok over medium heat. Add the onion, garlic and capsicum and stir fry for a minute. Add prawns and stir fry for 2 minutes or until the prawns start turning a translucent white-orange colour. Add the rice and stir fry well for a minute to combine. Pour over the sauce mixture and stir fry to mix well. Add pineapple chunks and cook for a further 3 minutes for the pineapple to heat and prawns to cook through.
Serve in pineapple halves, sprinkled with coriander leaves.