Back
Pina Colada Egg Nog With Pineapple
A summertime twist on a Christmas time staple!
For those looking to make their silly season even sillier, there is an option to add rum to the recipe.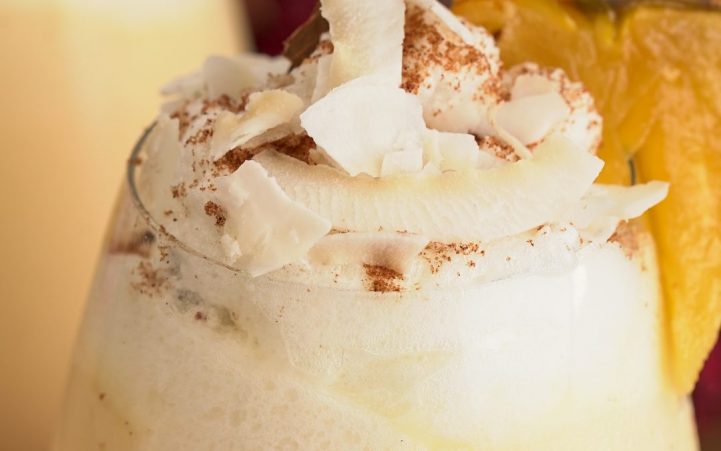 Ingredients
• 3 cups whole milk • 1 cup heavy cream • 3 cinnamon sticks • 1 tsp vanilla extract • ½ tsp dried nutmeg • 1 cup pineapple juice • 8-10 pineapple triangles • 3 heaped tbsp brown sugar • 5 eggs, separated • 2/3 cup granulated sugar • 3/4 cup rum (optional) • 1/3 cup coconut flakes
Method
Pour pineapple juice into a small saucepan, bring to the boil & simmer on medium heat until reduced, allow to cool to room temperature. Strain the juice, remove pulp.
Add the milk, cream, cinnamon, vanilla extract and nutmeg to a separate saucepan - bring to a gentle bubble over a medium heat, turn off & leave to cool to room temp.
Preheat skillet to medium heat. Dust the pineapple wedges in the brown sugar and place on the pan, cook for 2 mins until sugar caramelizes on both sides. Place egg yolks, granulated sugar & pineapple juice in a large bowl, whisk for 1-2 mins, until light creamy. Pour in the milk, whisking a few times during pouring, until the mixture is combined. Strain again, cover and refrigerate.
Just before you're ready to serve, whisk egg whites to soft peaks. Pour eggnog over ice and rum (optional), followed by egg whites, shredded coconut, cinnamon & caramelized pineapple triangles.