Back
LEBANESE BREAD HAM & PINEAPPLE PIZZA
Try this recipe for delicious Lebanese Bread Ham and Pineapple Pizza. A great dinner or lunch meal.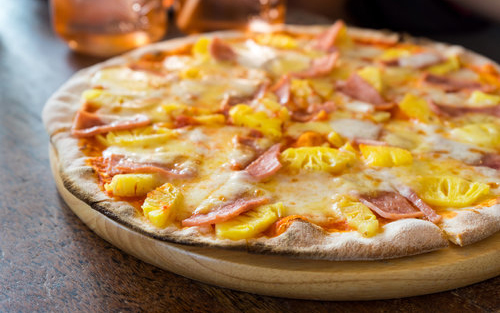 Serves 4
Ingredients
4 x 15 cm wholemeal Lebanese breads 1 cup (100 g) pizza sauce quarter (2 cups or 200 g) pineapple, diced 10 thin slices (150 g) leg ham, torn into pieces 1 cup (100 g) cheddar or mozzarella cheese, coarsely grated 1 teaspoon oregano, finely chopped
Prep Time: 20minutes
Method
Preheat oven to 250°C. Place Lebanese bread on oven trays.
Spread pizza sauce evenly over each base.
Arrange pineapple and ham evenly and sprinkle with cheese and oregano.
Bake for 8-10 minutes or until golden and cheese has melted.
FUN FOR KIDS!
Get the kids in the kitchen to choose their own pizza toppings.