Back
GRILLED PINEAPPLE WITH BOURBON & BROWN SUGAR GLAZE
Try this decadent yet easy to make recipe for grilled pineapple with bourbon and sugar glaze.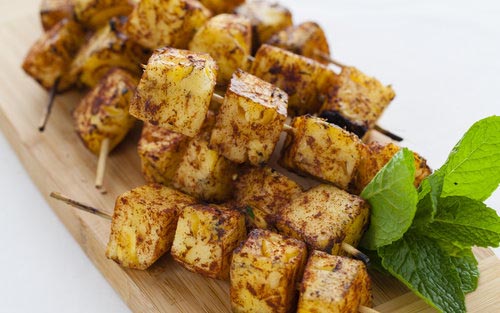 Serves 15
Ingredients
half cup (250 ml) Bourbon whiskey half cup (250 ml) brown sugar (firmly packed) 1 teaspoon vanilla extract quarter teaspoon cinnamon powder half (4 cups or 400 g) pineapple, cut into 3cm pieces 4 bamboo skewers, soaked in water 15 minutes, drained ice cream, to serve
Prep Time: 15 Minutes
Method
In small saucepan over medium heat simmer Bourbon, sugar, vanilla and cinnamon until sugar dissolves. Set aside.
Thread pineapple pieces onto 4 skewers, dividing equally.
Heat BBQ, grill or fry pan to high. Grill pineapple until brown, basting with Bourbon glaze and turning occasionally for about 6-8 minutes.
Remove pineapple from skewers. Serve hot or warm with remaining bourbon glaze and your favourite ice cream.