Back
French Crepes a la Pineapple
Crepes are delicious thin pastry wraps that can be stored in the fridge for a couple of days and enjoyed for breakfast, brunch, a filling snack or light supper. We love combining creamy vanilla ricotta with cinnamon Pure Gold Pineapple chunks.
Makes 4-6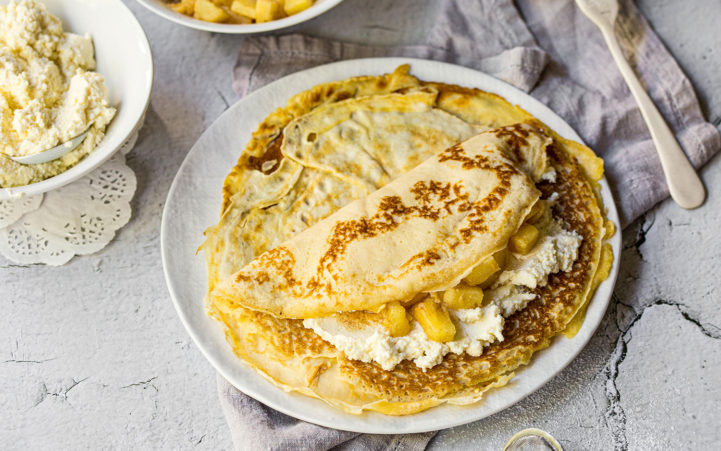 Ingredients
1 cup milk ¼ cup cold water 2 eggs ¾ cup plain flour 4 tablespoons olive oil 500g ricotta 1 cup Greek-style yoghurt 2 teaspoons vanilla extract 3 tablespoons icing sugar 1 small pineapple, peeled and diced 2 tablespoons butter ½ teaspoon cinnamon powder
Method
To make the crepes, in a large jug combine milk, water, eggs and flour. Whisk well to remove any lumps. Heat a tablespoon of oil in a large frying pan over high heat until the oil is very hot. Pour in about a quarter of the batter into the middle of the pan and quickly swish it around to cover the whole base in a thin layer. Cook for about 1 minute or until the top starts to set. Using a spatula, gently lift the crepe and flip. Cook for another minute then transfer to a large plate. Repeat the process with the remaining batter.
To make the ricotta filling, place ricotta, yoghurt, vanilla and icing sugar in a food processor and process for a few minutes until smooth and fluffy, scraping down the sides as needed.
To make the pineapple, heat a large frying pan over high heat and add pineapple chunks. Stir to heat through and caramelise gently. Add butter and cinnamon, stir to coat.
To serve, dollop a generous amount of whipped ricotta onto half of each crepe. Top with cinnamon pineapple chunks. Then fold the unfilled half of the crepe over the top, then fold the crepe in half again to make a triangle. Serve.
Store unfilled crepes in the fridge, covered with cling wrap for a couple of days. Store ricotta and cinnamon pineapple in airtight containers the fridge. Pineapple can be heated up in the microwave for a minute before serving.