Back
FISHCAKES WITH PINEAPPLE & AVOCADO SALSA
Try this recipe for delicious fish cakes with pineapple & avo salsa. You should probably make a ew batches because these won't last long!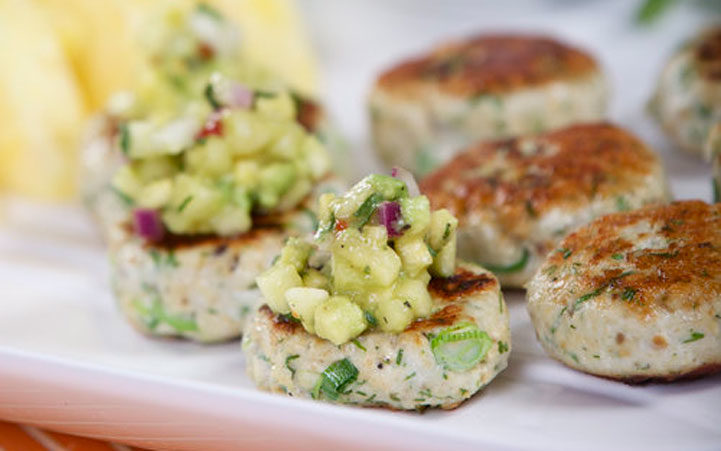 Serves 8
Ingredients
400 g skinless boneless fresh white fish fillets (e.g. ling, barramundi or blue eye trevalla) 2 egg whites 1 spring onion, ends trimmed and finely chopped 1 tablespoon fresh dill, finely chopped 1 cup (90 g) breadcrumbs 2 tablespoons olive oil Salt and pepper to taste Pineapple and Avocado Salsa Quarter (1 cup or 100 g) pineapple, finely diced 1 large ripe avocado, diced Juice and zest of 1 lime 1 tablespoon olive oil Quarter small red onion, finely diced Quarter cup (25 g) fresh coriander leaves, coarsely chopped
Prep Time: 45 Minutes
Method
For Pineapple and Avocado Salsa:
add all ingredients to a mixing bowl and toss gently to coat. Add salt and pepper to taste. Serve in a bowl with a spoon.
For fish cakes:
mix fish and egg whites in a food processor until combined.
In a bowl combine fish mix with spring onion, dill and breadcrumbs. Season with salt and pepper.
Heat olive oil in a large non-stick frying pan over medium heat.
Flatten tablespoonful portions of fish cake mixture into pan.
Cook for 1-2 minutes each side or until golden. Serve on platter topped with Pineapple and Avocado Salsa.