Back
Easy Sweet and Sour Pork
Sweet and sour pork is a classic in its own right, but when the sauce is made from scratch and using fresh pineapple it becomes something you can easily prepare at home, from scratch. Traditionally the pork is fried in a light batter before being tossed in the sauce, but this version is simply stir-fried without the batter. See note below if you would like go the full classic and deep fry the pork in a batter first.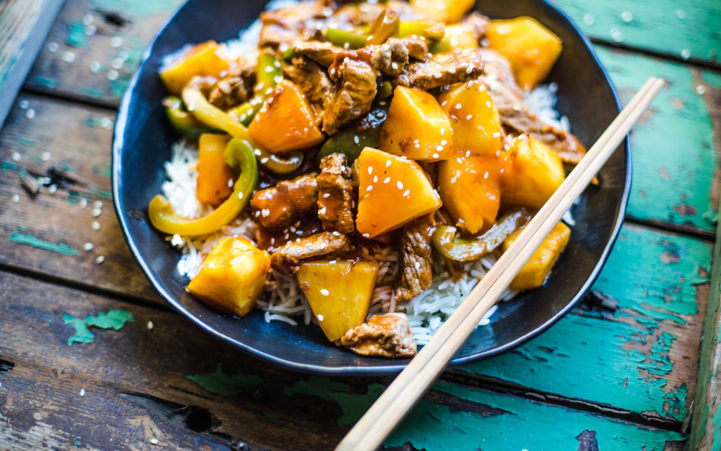 Serves 4
Ingredients
½ large pineapple 1 green capsicum 500g pork scotch fillets 2 tablespoon olive oil
Sweet and sour sauce
¾ cup Ketchup (reduced sugar and salt if you prefer)
1 tablespoon ketjap manis
2 tablespoons soy sauce gluten free if you prefer
3 tablespoons apple cider vinegar
1 teaspoon grated ginger
¾ cup water, divided use
1 tablespoon arrowroot (tapioca flour)
To serve
400g pouch ready to heat basmati or jasmine rice
2 teaspoons sesame seeds
Method
Peel and dice pineapple into bite-sized pieces. De-seed and cut capsicum into strips. Slice pork fillets into strips. Mix all sauce ingredients, except for water and tapioca, in a jug until well combined.
Heat oil in a large frying pan or wok set over high heat, add pork, in two batches if needed, and stir fry for 2 minutes. Transfer to a large bowl. Return pan to the heat and add pineapple and capsicum, stir-fry for a minute. Return pork to the pan and add the sauce together with half a cup of water. Bring to a simmer and cook for 5 minutes for the pork to cook through.
Mix remaining quarter cup of water and tapioca in a jug. Pour into the frying pan or wok and stir through, cook for a further minute for the sauce to thicken.
Serve with steamed rice and sesame seeds sprinkled on top.
Note: if you would like to deep fry the pork strips for a more traditional version, place raw sliced pork in a large bowl. Add a tablespoon of soy sauce and one egg yolk. Mix well. Sift in 4 teaspoons cornflour and 4 tablespoons plain flour and mix well to coat the pork. Heat oil suitable for deep frying in a small saucepan until hot – test by dipping a slice of pork in it, if it starts bubbling vigorously, the oil is ready. Reduce heat to medium-high. Fry pork in four batches for about 2 minutes each. Remove using tongs or a slotted spoon and drain on kitchen towel. Transfer to the sauce.