Back
Choc-Dipped Pineapple Pops
The only way to beat a heatwave is with these tasty whole fruit ice pops. Dip them in chocolate for an extra indulgent treat and sprinkle with nuts of coconut for good measure. Make and store in the freezer! If you can't find skewers with little handles, paddle pop sticks will also work.
Makes 24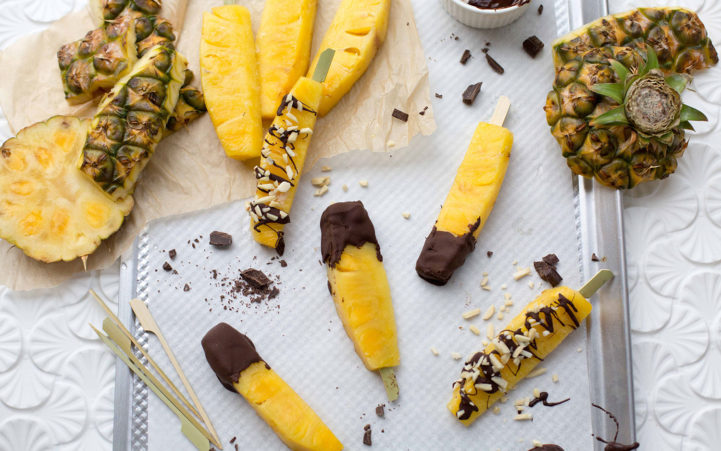 Ingredients
1 small pineapple 75g dark or milk chocolate ¼ cup nuts (almonds, macadamias or peanuts work well)
Method
Peel pineapple and cut in quarters lengthways. Remove the cores and slice each quarter lengthways into three. Push a skewer or paddle pop stick into each pineapple pop.
Place pops onto a tray lined with non-stick baking paper and freeze for at least 2 hours before coating with chocolate.
Melt chocolate in a shallow dish or bowl – microwave for 20 seconds in 2-3 bursts, checking the chocolate by mixing it gently. Chop nuts. Dip each frozen pop in the chocolate and sprinkle with nuts immediately. Enjoy immediately or place in a zip lock bag and back in the freezer.