Back
Cashew & Pineapple Chilli Vegan Balls
Exploramum has created a perfect way to warm up your guests tastebuds, this Lunar New Year inspired recipe will be a crowd favourite.
For more of her recipes be sure to check out her website.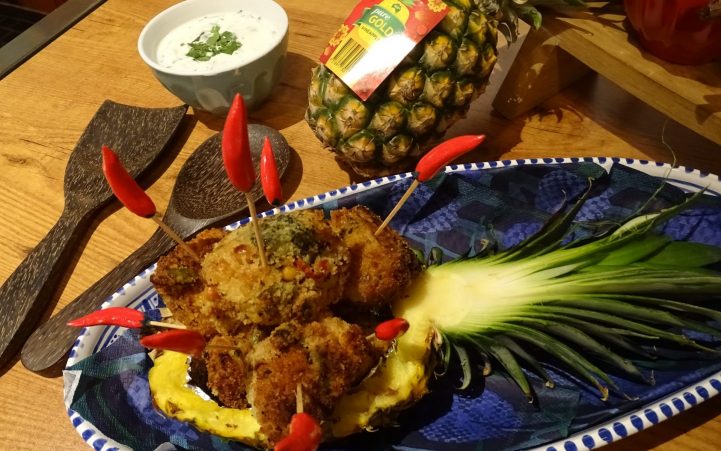 Ingredients
SHELL 1 whole Pure Gold Pineapple - with their Crown on MAIN CONTENTS 1 Cup Pure Gold Pineapple pieces from the inside of the pineapple 3-4 tsp - Cooking Oil of your choice 1 Cup - Brown Rice - cooked 1/2 Cup - Quinoa 1 Cup - Chickpeas - drained & soaked 1/2 Cup - Broccoli - finely chopped 1/2 Cup - Green Beans - finely chopped & blanched 1/2 Cup - Cabbage - finely sliced 1/2 Cup - Carrot - finely sliced / chopped 1/4 Cup - Red Capsicum - finely sliced 1/4 Cup - Pak Choy - Finely chopped 3 Sprigs - Fresh Coriander 1 Small - Red Onion 1/2 Cup - Fresh Cashews - unsalted 1 Medium - Fresh Red Chili - finely diced (pips removed) 2 or 3 Cloves - Fresh Garlic - smashed 1/4 tsp - Tumeric Powder 1 or 2 tsp - Fresh Ginger - grated finely 1 Pinch - Sea Salt 1/2 Cup Wholemeal Flour - Do not add this until ready to make balls SAUCE 2 tsp - Tamari Sauce* 1 Tin - Coconut Cream 1 tsp - Coconut Nectar** 1 tsp - Agava Nectar COATING 2 Cups - Toasted Bread Crumbs 1 - Plastic or Water-resistant Bag 1-2 Cups - Cooking Oil of your choice
Yoghurt Dipping Sauce
2 Cups – Coconut Vegan Yoghurt
1/4 Cup – Fresh Mint – Finely Chopped
Tools of the Trade
Tin Foil, Serving Plate, 2 x Sharp Knifes, Cooking Ladle / Spoon with drain holes, Chopping Board, Tongs, Large Deep-sided Frying Pan or Wok, Draining Paper, Sieve, Measuring Cups & Spoons, Medium Bowl, Small Bowl
Preparation Time
45 Minutes start to finish
Pineapple Shell *
Using Chopping Board (I use a seated bread knife), cut the 'Pure Gold' Pineapple sideways so crown is cut in half and it can lie flat.
Using a small knife, cut around the edge of the pineapple and scoop out the centre neatly.
Chop the 'Pure Gold' pineapple into small cubes and drain so you have 1 Cup of Pineapple pieces.
Turn the half 'Pure Gold" pineapple upside down and allow all the juices to drain out over a bowl.
The remaining 'Pure Gold' Pineapple juice is lovely to drink fresh.
Repeat so you have 2 empty 'Pure Gold' Pineapple shells.
Main Contents
Lightly toss the main contents so the cooking oil hot covers the main Ingredients and it lightly browns.
Now, combine your sauces in a separate bowl.
Add sauces into the Main Contents cooking in the frying pan.
Allow to cook on medium until sauces are mixed well through the ingredients.
If possible turn off and let sit contents in the sauce for a couple of hours, but can be used straight away.
Using the sieve, drain the Ingredients for 10 minutes and allow all excess liquid to drip away.
(Wash and dry frying pan ready for reuse or use a medium saucepan).
Add the 1 Cup of wholemeal flour (can also add the optional egg) and mix in well with contents of pan.
Making the Ball Shapes
Take a handful of Ingredient and squeeze any remaining moisture out repeatedly.
Make Golf Ball-size balls with the ingredients, using your hands pressing ingredients together firmly.
Place balls on chopping board till all ingredient finished.
Wash and dry sieve ready for reuse.
Line sieve with paper towel or draining paper.
Place your bread crumbs in a plastic or water-resistant bag.
Gently add one Ball of Ingredients at a time and shake crumbs so it is completely & thickly covered in crumbs.
Return ball when covered to the chopping board.
In a Frying Pan, heat 1-2 Cups cooking oil to a hot temperature.
Test one ball first and use cooking ladle with drain holes to turn and remove when ready.
Add the rest of the balls to the oil in the frying pan (at a manageable amount so they don't burn)
Once cooked, remove and drain in the lined sieve and allow to cool.
Pineapple
Line both shells with tin foil newly (so foil isn't seen from top) each half shell 'Pure Gold' Pineapple – with crown
Place Cashew & Pineapple Chilli Vegan Balls into the lined 'Pure Gold' Pineapple shell.
Other shell can be used for an accompanying salad, rice or coleslaw mixing 'Pure Gold' Pineapple pieces through the ingredients.
Serve
Can be served hot or cold with a Yoghurt Dipping Sauce and/or steamed or stir fried rice.
Sauce made by mixing yoghurt and mint together in a small bowl served separately.
*Tamari is a Japanese soy sauce made by fermenting soybeans and usually gluten-free.
Compared with most soy sauces, it's darker, less salty, and has a strong umami flavour.
**Coconut Nectar is tapped from the coconut blossom.
It is naturally sweet, low glycaemic, nutrient rich, containing 17 amino acids, minerals, vitamin C, broad-spectrum B vitamins, and has a nearly neutral PH