Back
Baked Miso Barramundi with Pineapple
This hands-free way to prepare perfectly cooked fish with beautifully caramelised pineapple might just become your go-to for fish night dinners. The miso paste and maple syrup glaze adds a nice dimension of flavour and, best of all, helps keep the flesh juicy and moist. For mid-week shortcut, use microwave basmati rice to serve.  White (shiro) miso paste is available from most supermarkets, Asian grocers or online.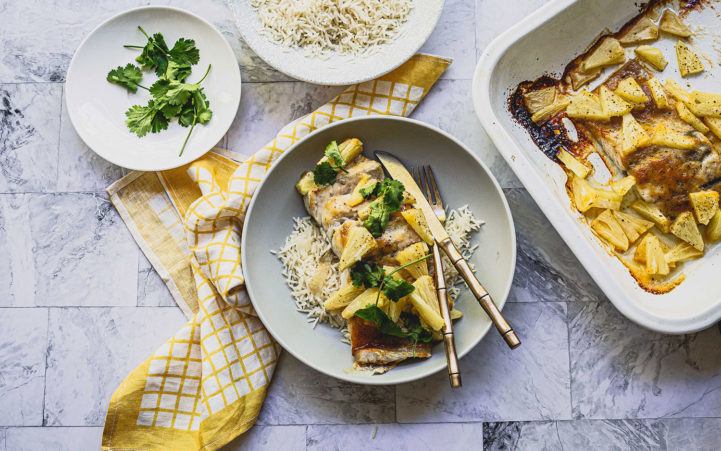 Serves 2
Ingredients
2 barramundi fillets (middle pieces) 2 tablespoon white (shiro) miso paste 2 tablespoon maple syrup 1 tablespoon olive oil 2 cups pineapple chunks* Freshly ground black pepper Steamed basmati or white rice to serve (see note above) Small handful coriander leaves
Method
Preheat oven to 180C. Move the rack to the top shelf. Place barramundi fillets in a baking tray, skin side down. In a small bowl mix together miso paste, maple syrup and olive oil. Spread the glaze over the fish fillets. Top with pineapple chunks, spreading some in the tray as well. Sprinkle generously with freshly ground black pepper.
Bake for 15-20 minutes, the fish is cooked through when it turn white in colour and comes apart easily when poked with a fork. Meanwhile prepare rice according to packet instructions.
Serve pineapple barramundi on top of rice, garnished with a few coriander leaves.
* As always, you can peel and chop your Pure Gold Pineapple and store it in an air-tight container in the fridge for a few days, or freeze to add to smoothies, stir-fries and use for baking.