Back
Aussie Burger with the Lot
Celebrate the weekend (or Australia Day) with a classic Aussie Burger with the Lot, including grilled slices of our Pure Gold Pineapples.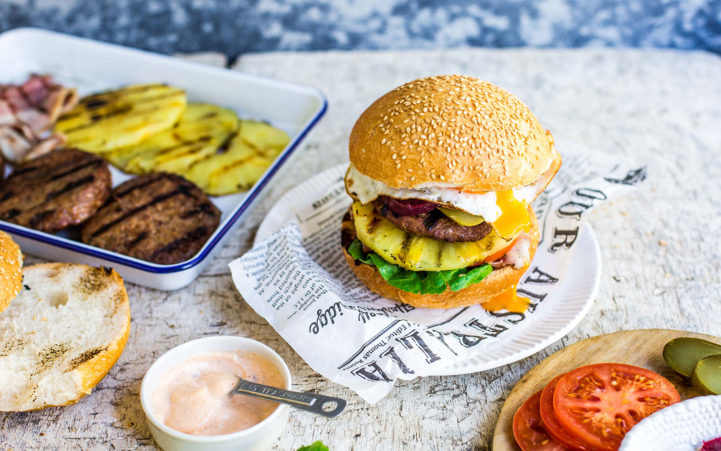 Serves 4
Ingredients
1 pineapple 2 fermented pickles 2 tomatoes 1 small cos or gem lettuce 4 burger patties 4 rashers bacon 4 burger buns or large bread rolls 4 eggs 4 slices tinned beetroot
Spicy Mayo
¼ cup mayonnaise
1 tablespoon sriracha, chipotle or hot chilli sauce
Method
Peel and slice pineapple into four 5mm-thick rounds. (Remaining pineapple can be cut into chunks stored in an airtight container in the fridge for up to 5 days – perfect for snacking.) Slice pickles and tomatoes, leaf lettuce.
Cook burger patties, bacon and eggs on the barbecue and to your liking. Grill pineapple rings on the barbecue for 2 minutes on each side. Place cut buns on the barbecue for 10 seconds to warm and char slightly.
To assemble: mix mayonnaise and sriracha or chipotle sauce, divide between the bases of the four buns. Top each with the lettuce, grilled bacon, sliced tomato, grilled pineapple, grilled beef patty, pickle and beetroot slices. Pop an egg on top and top with the other half of the bun.