Back
Pineapple Upside Down Cake with (Rum) Caramel
This version of the pineapple upside down cake is quintessentially Australian – combining our beautiful Pure Gold Pineapples, an Anzac cookie-inspired cake batter with (an optional, but in our opinion delicious) dash of Bundaberg rum in the caramel. You can serve it with vanilla ice cream or clotted cream if you like, but the cake is perfectly delicious on its own.
Makes 1 cake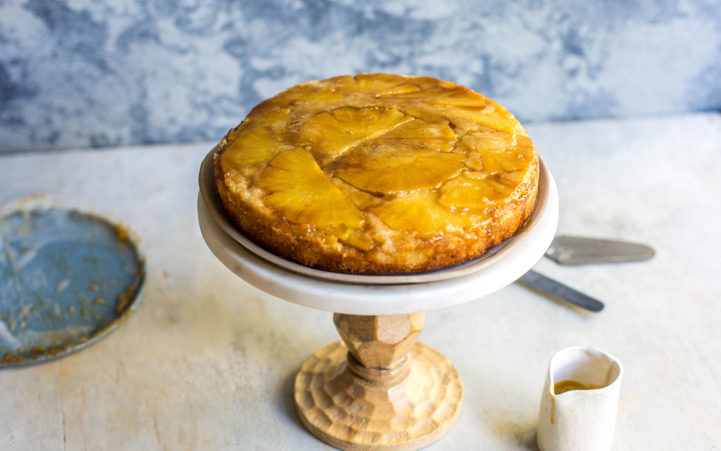 Ingredients
½ large pineapple ⅓ cup brown sugar 50g salted or unsalted butter 2 tablespoons rum (we used Bundaberg), optional
Cake Batter
1 cup plain flour
3 teaspoons baking powder
½ cup rolled oats
½ cup shredded coconut
¾ cup raw sugar
2 eggs
½ cup milk
½ cup olive oil or macadamia oil, plus extra for greasing
1 teaspoon vanilla extract
Method
Peel pineapple and slice in half lengthways. Slice half of the pineapple into 4mm-thick half rounds. (Remaining pineapple can be cut into chunks stored in an airtight container in the fridge for up to 5 days – perfect for snacking.)
To make the caramel: place brown sugar in a large frypan set over medium heat, spread and heat for 1-2 minutes for the sugar to begin to melt. Dice and add butter and rum, reduce heat to low, and cook, stirring until the butter is melted and the caramel comes to a gentle boil. Remove from heat and add pineapple slices, stir to coat them in the caramel. Allow them to soak in the caramel while you prepare the cake batter.
To make the cake: preheat oven to 180C. Lightly grease a spring-form cake tin with extra oil. Line the base and sides with non-stick baking paper.
In a large bowl mix flour, baking powder, oats, coconut and sugar. In a measuring jug, whisk together the eggs, milk, oil and vanilla. Pour the mixture into the dry ingredients and mix well until combined.
Arrange caramel pineapple slices in the bottom on the tin in a circle with the round side toward the edges of the tin, overlapping slightly. Work from the outside then layer remaining slices in the middle. Reserve remaining caramel in a small jug for serving (you can reheat it in a microwave for 20 seconds if it becomes too thick to pour later).
Pour the batter over the pineapple base.
Bake in a preheated oven for 45 minutes, or until the cake has turned golden brown and a skewer inserted into the middle comes out clean.
Remove from the oven and cool in the tin on a wire rack for 20 minutes.
To serve: remove the sides of the tin. Place a serving plate, upside down, on top of the cake and flip the cake out. Gently dislodhe the base of the tin and remove baking paper from the top of the cake. Serve with the extra caramel drizzled on top.
The cake will keep in the fridge for up to 5 days.