Back
Pineapple Red Chicken Curry
Traditionally this curry is made with duck but we used chicken for an easily accessible version.  If you do prefer the richer flavour of duck, use a shortcut and buy confit duck legs, available from most supermarkets nowadays. Add the shredded duck meat at the end, the meat is pre-cooked so only needs warming through. Serve with rice and lightly steamed greens such as broccoli or green beans.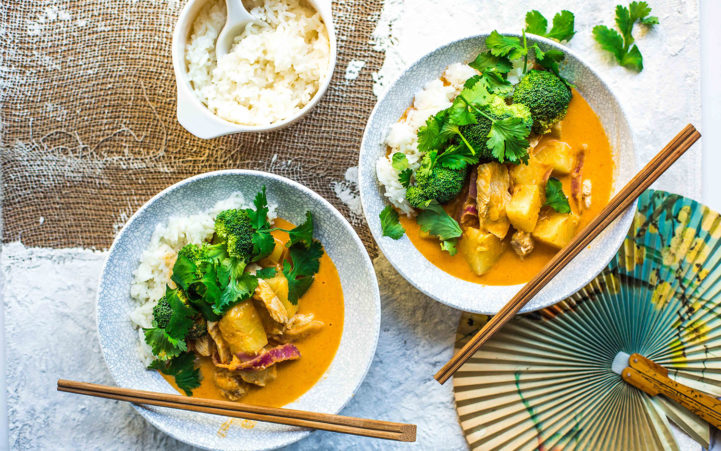 Serves 4
Ingredients
½ large pineapple 2 chicken breasts 1 Spanish onion 2 tablespoons olive or coconut oil 3 tablespoons red curry paste 1 (270ml) can coconut cream 1 cup water
To serve
1 head broccoli
1 (500g) pouch ready to heat steamed rice
Handful of coriander leaves
Method
Peel and dice pineapple. (Remaining pineapple can be cut into chunks stored in an airtight container in the fridge for up to 5 days – perfect for snacking.) Slice chicken breast into strips. Peel and slice onion into wedges.
Heat oil in a large saucepan set over medium heat. Add curry paste and stir until fragrant. Add onion and chicken, stir to coat in the paste. Cook for 2 minutes. Add pineapple, coconut cream and water. Bring to the boil then reduce heat and simmer for 5 minutes for the chicken to cook through, then turn off the heat. Chop and steam broccoli, or alternatively add the broccoli to the cooked curry.
To serve: chop and steam broccoli, or alternatively add the broccoli to the cooked curry. Prepare rice according to packet instructions. Divide rice between serving bowls. Top with curry, steamed broccoli and sprinkle with coriander leaves.